PARTAKE is #real.craft.flower.
Discover our unique selection of fine cannabis flowers, pre-rolls, and more.
New Product Announcement!
Good day everybody,
We have some GREAT news….and some less great news…the less great news first.
We decided to not launch our Blunts…They were just not up to our quality standards and we refuse to compromise when it comes to quality! But we will have them ready to go in a few weeks and THEY WILL BE AWESOME!
NOW the GREAT NEWS.
We have launched our 14gram Milled and 2 x .75g Sweet Spot Pre-rolls!!
Both are Rotating Strain Products. Our Milled product will launch with Punch Mints and our Sweet Spots will Launch with a NEW STRAIN!!!
New Cultivar! Gary P BX1 is our new Gary Payton back cross that comes in at 26.3% THC and 3.4% Terps!! Our Milled 14g offering is a Whole Flower Milled….which means A+ Quality NO STEMS NO SEEDS NO BS! Just whole craft flower milled to perfection with moisture packs to give you the absolutely BEST MILLED EXPERIENCE ON THE MARKET!!!
See that sticker on our Milled Pouch? Double sided so you can use it to get a better seal on the flap….or if your savvy you will use it to stick your papers there and have everything you need to roll one up on the go!!
Don't forget to check out our new look website below!! Let us know if your store carries Partake products and we will add you to the site!
Hand Watered – Hand Trimmed – Hung to Dry – Never Irradiated

Welcome to Partake!
Partake Cannabis is all about naturally grown, individually hand-crafted cannabis flower. Everything at our small-scale indoor cannabis garden here in Edmonton, Alberta is designed to ensure that when you first break the airtight seal on a package of Partake Cannabis, you sense the complex cannabis aromas and the obvious freshness and purity of the flower. All well before you actually experience the impact that artisanal care and attention makes… when you partake.  Partake… real. craft. flower.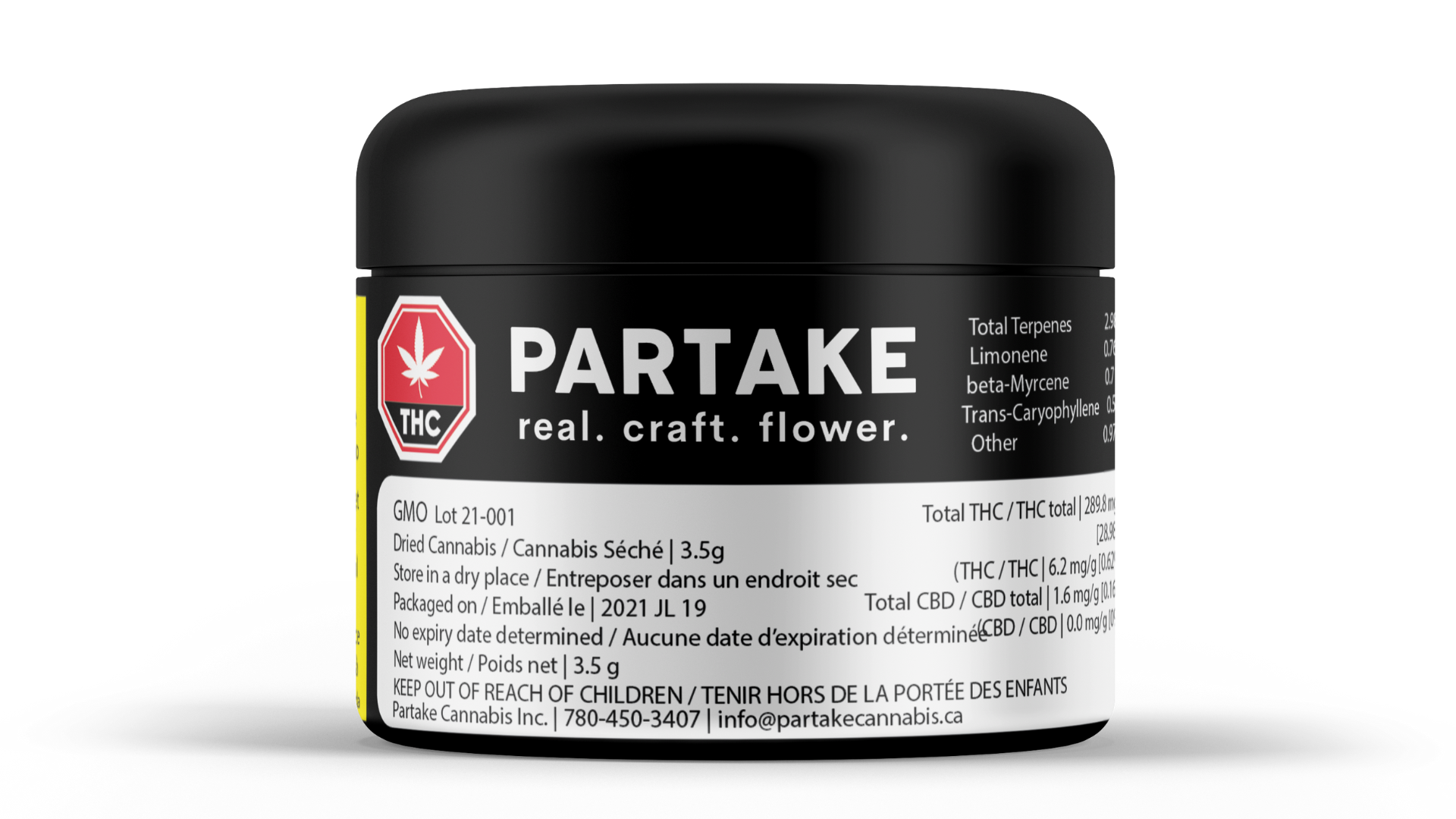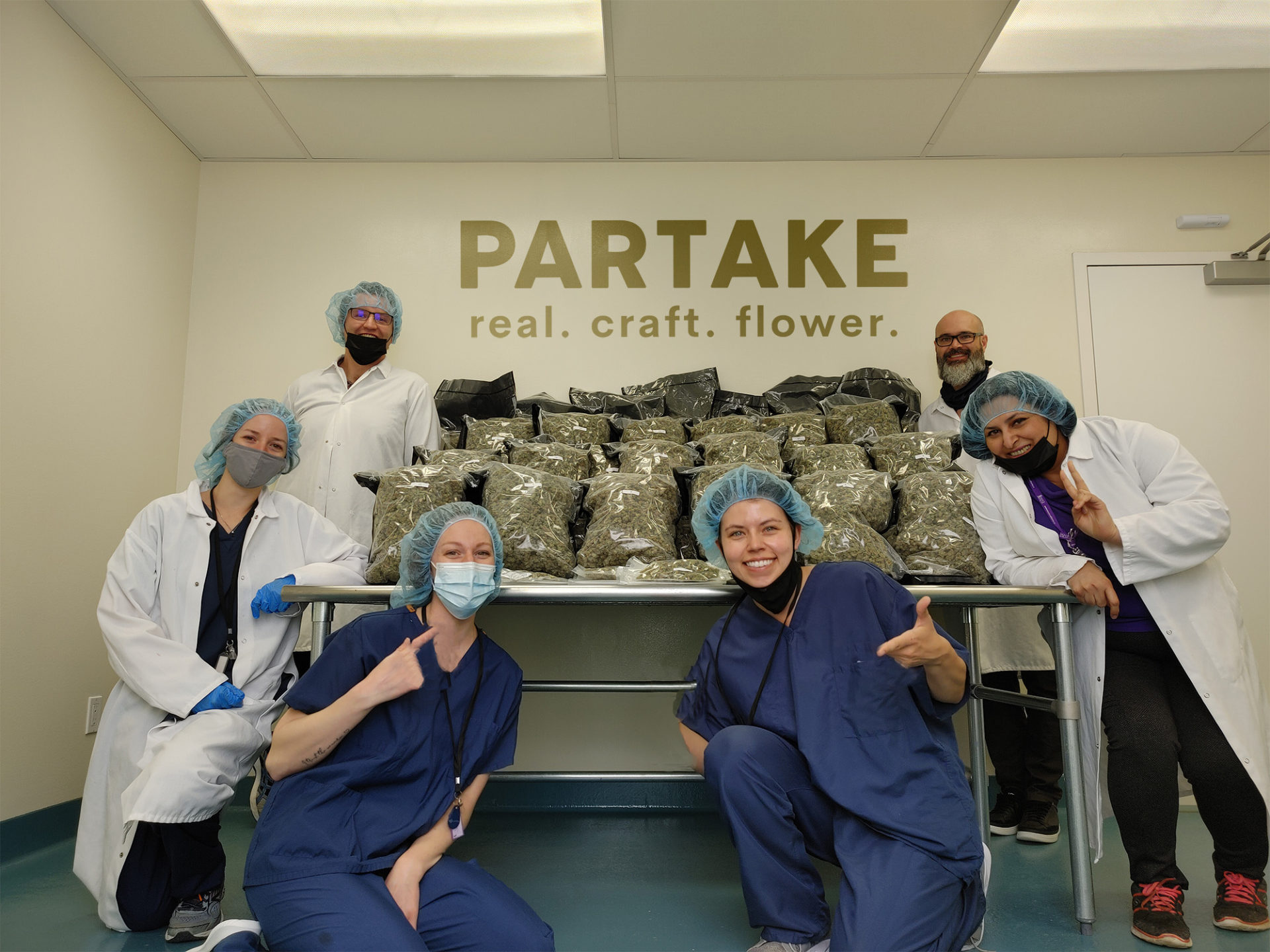 Celebrating Diversity
We are proud of our diverse backgrounds and believe that our unique perspectives and experiences help us to produce exceptional cannabis products. When you try our products, we hope that you will be able to taste the care and passion that goes into every bud.
This button takes you to our partner, HiBuddy.ca, where you can find the dispensaries near you that have Partake in stock right now!
Jacques Spilka
January 18, 2023.
I baked a batch of Punch Mint chocolate chip cookies this week and I am every bit as pleased with the Partake's Punch Mint as I am with their GMO. Tasty and powerful, each strain has a different effect on me. With the GMO the stone was VERY motivating. The first time I ate a GMO cookie I was surprised to find myself thinking of things that needed to be done around the house, and I started doing them. This occurs every time I consume a GMO cookie. The Punch Mint cookies are just as powerful, tastier (pineapple + citrus, I think), and the stone is much more psychedelic. I am sure that if I took a very strong dose that I would probably find it quite trippy, but I don't do that anymore. Finding ones right dosage, particularly with edibles, is important in order to get the maximum benefit from cannabis. Unfortunately for me Partake is not available where I live. I am, however, visiting Edmonton soon, and I will be restocking my supply of cannabis to make more cookies. This really is the best cannabis that I have found for my consumption. My only issue is that I have to buy it in 3.5g servings. Rather inconvenient when if I want 14g to make a batch of 128 cookies for myself.
MOTHERSHYP
January 1, 2023.
Consistently fantastic! Unique terpene profiles and high potency. #real.craft.flower
Sean Spicoli
December 18, 2022.
Supreme buzz. One of the best micro-craft growers in Canada. I highly recommend Partake Cannabis.
Helen Back
November 27, 2022.
Partake is by far one of the best cannabis growers in Canada. Always top-shelf gear. Real nice.
Edmonton Chris
June 3, 2022.
Great culture, quality driven.
Afifa Gilani
June 29, 2021.
Great place to work with professionals in Cannabis industry
The Budtenders Lounge is Open!
A dedicated space for our Budtender friends. Enter contests and receive free swag when you join! Access store marketing collateral, get updates on current grows and drop dates, and chat with other Budtenders in the forum section.
Articles
At Partake, we believe in the power of education. That's why we offer a wide range of educational resources and events on craft cannabis. Check out our Learn page for more informational and educational articles and videos.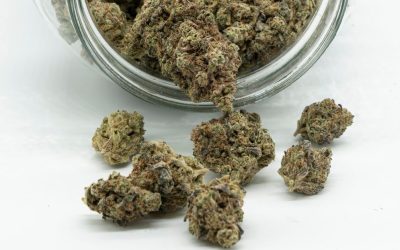 Punch Mints is a cannabis cultivar that is known for its strong mint aroma and flavour. This cultivar is a cross between the strains Mint Chocolate Chip and Purple Punch. The aroma is a combination of mint and chocolate, with notes of berries and grapes. The flavour is similar, with a refreshing mint taste and a hint of sweetness from the chocolate and fruit notes.